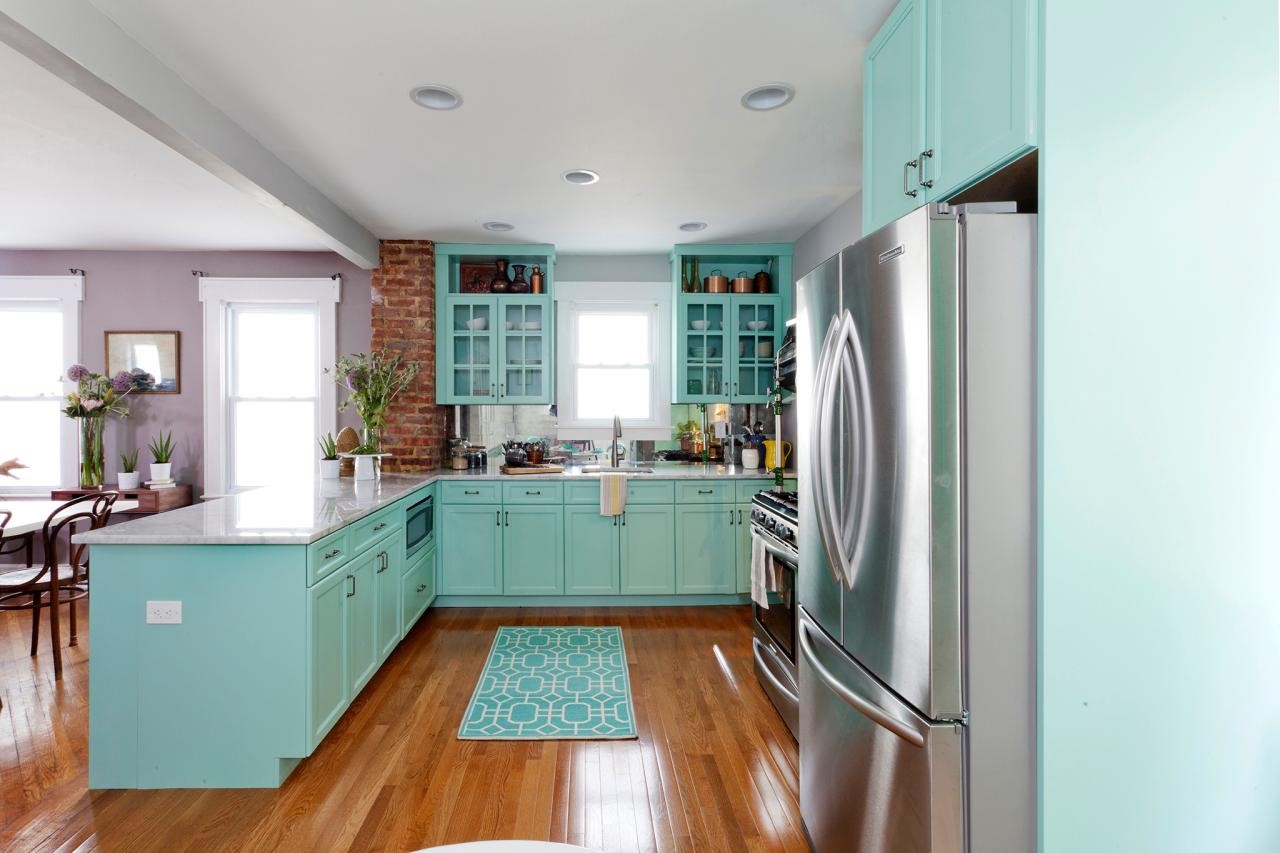 Whether you are looking to update the look of your home this winter or planning to put your house on the market this spring, you can use the following ideas to stage your home for the every day.
Design to Your Taste
What's great about these design techniques is they work for traditional, transitional, contemporary and modern homes. No matter what your design preference is, you can always improve or tweak the look and functionality of your home with simple design principles.
Stick to a Color Scheme
You don't have to be super strict about this, but using a color palette throughout your home can create an overall sense of continuity. The picture above, from HGTV uses teal, white, copper, green and lavender to move from room to room. The kitchen is predominately teal and white with copper and green accents and stainless steel appliances to reflect the lavender. The dining area transitions to lavender as primary color and white, green and copper carry through as the accent color. You can imagine how the design is carried throughout the home to create an overall 'look'.
Use Focal Pieces
If you have something you absolutely love, hang it where it will be seen! Places that should have amazing points of focus include:
Above the fire place
Over the dining room table
Master bedroom
Configurations of furniture that create a center that draws the eye
If you don't have something you love in all these places, you have my permission to treat yourself. Having these focal points in your home make it what you love and creates that feeling of "home."
Splurge on a Sofa
You can spend years going through poor quality sofas because you told yourself various stories about why you shouldn't have a nice one. Or, you can get a nice, quality sofa and live happily ever after. Think about it! Put your money in the comfort. You don't have to go overboard on expensive fabrics to achieve your goal.
Use Pillows as Accents
Those little pillows that come with your beautiful couch look like just that – they came with the couch. This is nice, but consider those pillows as a base for your accent. Invest in a contrasting larger set to make the couch and room pop. Try to add a texture whenever possible!
Place Mirrors Wisely
Mirrors are an awesome way to create depth in a room and reflect light. What you don't want a mirror to do is reflect dark space, a plain wall or the laundry room. Try to hang mirrors so they reflect your favorite focal points – art, chandeliers, stained glass and textures.
Have fun
The bottom line with interior design is to have fun and let a little rebellion show through in your home. For example, if you are a motorcycle fan, I don't recommend hanging Harley Davidson posters throughout the house, but an awesome sculpture in the dining room depicting a bike would be perfect –  You get the picture!
If you need any other ideas on how to capitalize on this to get your home ready for the spring market or just live in a house that better reflects your interests, please don't hesitate to call me.