This holiday season, when you get a few days off work (and your kids seem to have three weeks off) make a few easy and quick updates to your home to give it a fresh feeling for the new year – And keep you busy when your kids want to play the 100th game of Go Fish.
Photo from HGTV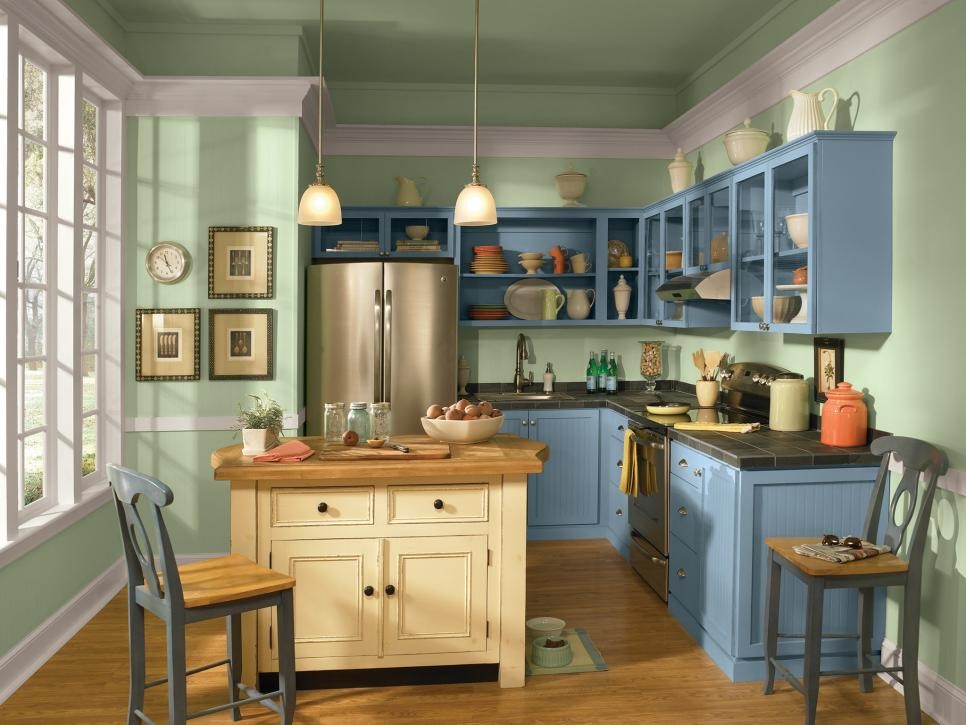 Repurpose a Rug to the Kitchen
If your kitchen's looking a little drab, try bringing in a rug from another room to add color, pattern and texture. Using prints can bring a whole new style into the room. I like to move rugs around in my house to not only switch up the look (for free), but to extend the life of my rugs by alternating the traffic patterns they endure.
Add Some Style to Shelves
Exposing open shelves or using glass-door cabinets is a perfect way to give any room a new look. Clear everything from the shelves, and then add decorative (and useful) items — keeping everything within a limited color palette as much as possible. This can also give you an excuse to use the gift certificate you got from your Mother-in-Law to invest in some new and updated useful items!
Add Color to Kitchen Cabinets
A fresh coat of paint is a relatively easy way to update cabinets and give the kitchen a whole new look. It's a project that can take a few days, so plan accordingly. I suggest removing all the hardware and number doors, drawers, knobs and pulls as you take them out so you'll know how to replace everything when it goes back in. Clean and sand all surfaces, then paint with two to three coats of a premium-quality self-priming paint. Let everything dry for at least a day before you put it all back together.
Work in Some Art
A splashy piece of artwork — a flea-market painting, a poster, a photograph you took yourself — adds instant character to any room. You can even use the rug approach here and alternate the art you already have hanging in your home. What you have hanging in the living room might be exactly what you need in the dining room, but you'd never considered hanging it in there before.
Update Your Hardware
Chrome, nickel and stainless steel finishes will never go out of style, but adding some vintage knobs can switch up the look and feel of your bathroom, kitchen or any room with drawers or cabinets. You can find interesting pulls and knobs at antique stores, online, garage sales, and most home stores.
Have Fun with Wallpaper
I used to cringe when I heard the word wallpaper. Images of my first home and spending untold hours trying to remove the strange yellow and brown scenery from our living room – ugh! But, wallpaper is different now. It's easier to install, remove, and get this – it's cool again!
You can add a splash of pattern or texture to any room now. There is even paper designed for use in the kitchen – it's water-resistant and scrub-able!
Get Creative this Holiday
If you're anything like me, you'll be looking for a little project, just for yourself, this holiday season to get you through the hustle and bustle. I hope these ideas give you some time to relax and tap into your creativity. If you're considering selling your home, these updates will come in handy in getting your home ready for showings and open houses. If you're thinking of selling, give me a call and I can walk you through even more ideas. Happy Holidays!